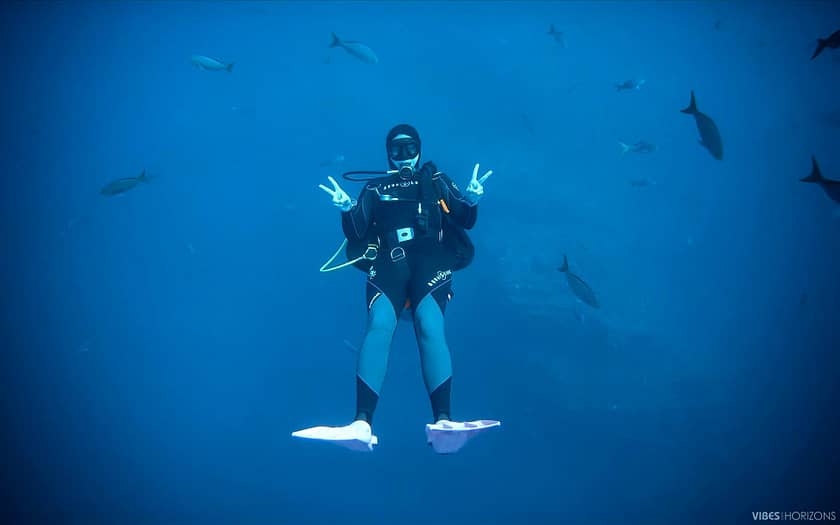 Mar Hosted Trips is a small business that promotes scuba diving trips in Mexico.
Hola! I'm Maira. I'm Mexican. I'm a PADI Master Instructor and the owner and operator of Mar Hosted Trips, a small business that promotes scuba diving trips in Mexico.
I decided to start this travel company because I felt the need to share the beauty of my country with the dive community. 
I organize and host authentic dive trips catered to nature and culture lovers.
If you decide to join me, you will get to enjoy local cuisine, sunset hikes and truly amazing dives while bonding with like-minded divers.
And hey, no worries about your experience level, I will always be there to make sure you are comfortable, safe, and having the best time!
How it all started
I started scuba diving in 2008. I did a PADI Divemaster internship in Huatulco, Mexico. I absolutely loved the quiet, simple life of Huatulco.
 I fell in love with Huatulco's incredible biodiversity and I could not go back home to live a city life again.
I became a PADI Master Instructor, a Free Diver, and a Cave Diver while working as a full-time scuba instructor in Cancun and Playa del Carmen. 
I met my husband on a dive boat while he was living in Mexico. After some time, we decided to start fresh in his hometown in Texas.
As soon as I could, I got involved with the dive community. 
I realized most divers do not know about all the beautiful and unique destinations my country has to offer! 
As a result, I decided to contact my friends in Mexico and started the quest of putting together some amazing dive trips.
I started leading dive trips to Mexico in 2018, and little did I know that those trips where the first steps to creating Mar Hosted Trips.
My trips are about connecting with other like-minded divers, experiencing the real Mexico, and diving unique destinations. 
I am the host because it's my country and I want you to feel comfortable and welcome, I want to show you why I left my heart there and why mi casa es tu casa!